Alternative Cancer Treatments
that Penetrate the Root of Your Disease
Stop the tumor from growing
Stimulate spontaneous tumor regression
Keep the patient in remission
Looking for
non-invasive therapies?
Know Your Options
Unique Alternative Cancer Treatment from a
Leader in Holistic Medicine
Fill out the form below to get help from our qualified staff of doctors.
How Alternative Medicine Helps People with Cancer
1

Implement Anti-Tumor Protocols

At our alternative cancer treatment center, our protocols include building the immune system, implementing anti-tumor protocols, and detoxification. Unlike when a patient undergoes chemotherapy or radiation treatments, our goal is to strengthen the body while destroying each cancer cell and to balance out the body through detoxification methods that eliminate cancer waste.

Proper nutrition is essential in successful cancer therapy. Cancer is a wasting disease and 40% of cancer patients die from malnutrition. You cannot fight a life-threatening disease while malnourished. Properly nourished cancer patients, such as the ones at our alternative cancer treatment center, experience less nausea, less immune suppression, malaise, hair loss, and organ toxicity than those with nutrient deficiencies and imbalances.
2

Build the Immune System

The medical staff at New Hope Alternative Cancer Treatment Center focuses on restoring the powerful immune system with therapies such as:

1. Intravenous beet derived levorotary vitamin C, which has been shown to increase immune cell activity, block carcinogens in the body, help in the elimination of virus-infected cells, kill cancer cells, protect DNA from mutation, help eliminate carcinogens by increasing glutathione, and reduce pain, to mention a few.

2. Treat hormone deficiencies in the body. DHEA, melatonin, thyroid, and thymus hormones provide powerful immune support when given to patients after proper medical evaluation at our alternative cancer treatment center. Studies have shown that about 90% of cancer patients have subclinical thyroid deficiency. DHEA and melatonin are also low in most cancer patients and many others with chronic diseases.

3. Restore a healthy "internal milieu," or connective tissue, function. The connective tissue, or extracellular fluid/space (also called mesenchyme and matrix), makes up about one-half of the total body weight and it provides an essential environment for proper cellular health. Unfortunately, modern lifestyles create serious chronic degeneration of this internal cellular environment leading to an acidic condition, reduced oxygen levels, decreased cellular nutrient intake and waste disposal, and the build-up of chemical toxins like pesticides and heavy metals like mercury, lead, cadmium, and arsenic. Cancer, like most other diseases, is a symptom of connective tissue and extracellular fluid/space degeneration.

4. Restore the proper balance and function of healthy intestinal microorganisms in the intestines. The digestive tract plays a huge role in maintaining a healthy immune system. It is about 20 feet in length with an immense surface area that supports approximately 5 pounds of bacteria and fungi, most of which are beneficial to your health. However, many common features of modern living, such as recurrent antibiotic therapy, dietary sweets and alcohol, and stress, cause this delicate internal ecology to be upset. Overgrowth of fungi, atypical bacteria, parasites, delayed onset food sensitivities, "leaky bowel syndrome", and impaired nutrient assimilation are a few of the common bowel ecology disturbances that gradually create a chronic and debilitating workload for the immune system, as well as many other troubling symptoms in the body.
3

Detoxify the Body

Body detoxification therapies focus on eliminating chemical toxins such as pesticides, along with heavy metals like mercury, cadmium, lead, and arsenic in the body. These unfortunate by-products of modern living contribute to many diseases and weaken body systems, including the immune system.

In addition to eliminating chemical toxins and heavy metals from the body, cancer patients need further detoxification support to remove the toxic load that comes from the death of cancer cells. When tumor degradation is rapid, the release of cellular toxins into the body may cause serious clinical problems.

Treating nutritional deficiencies and restoring optimal nutrition through proper diet and intravenous therapies play a crucial role in cancer recovery. According to Dr. Patrick Quillin in his book, "Nutrition is a low-cost, non-toxic, and scientifically proven helpful component in the comprehensive treatment of cancer." There are thousands of medical studies identifying the effects of nutrient deficiencies, like Vitamin A, zinc, and selenium, and gradual weakening of the immune system and the development of a disease. For example, zinc is involved in every aspect of immune function, and yet studies have shown that 68% of Americans get less than two-thirds of the recommended daily allowance.
Alternative Cancer Treatments We Recommend
A few years ago, choosing to go the natural route was laughed at or criticized. Today, with a myriad of natural cures for cancer, alternative cancer treatments are becoming the norm against chronic degenerative diseases and immune disorders. If cancer makes you feel powerless over your health, alternative cancer treatments may offer some feeling of control.
Disclaimer: The following aspects of therapy (not a complete list) are individualized for each patient after a careful evaluation of current medical and physical condition.
Low Sugar, Vegetarian Diet
Eliminating added sugars and maintaining a diet rich in fruits, vegetables, and whole grains offer tremendous health benefits, including obesity prevention and having more energy throughout the day, among others.
Nutrient Supplementation
Oral and intravenous supplements like vitamins, minerals, fatty acids, phytochemicals, and more improve the body's internal conditions to fortify cellular protection, repair, and regeneration.
Antimicrobials and Probiotics
Ingestion of healthy intestinal bacteria improves gut health, promotes the recovery of commensal microbiota, and increases cancer treatment tolerability.
Immune Enhancement
The use of varying vitamins, minerals, botanicals, medicinal mushrooms, and other immunoreactive substances to help strengthen the body and eliminate cancer symptoms.
Hormone Therapy
A government-approved treatment for relieving menopausal symptoms caused by lower levels of estrogen at menopause, including hot flashes, vaginal dryness, and sleep disturbances.
Systemic Enzyme Therapy
Systemic enzymes stimulate the immune system, improve blood circulation, decrease the possibility of blood clotting, break up cholesterol and fibrin in the blood vessels, and reduce inflammation.
Levorotatory Vitamin C
Vitamin C is a potent antioxidant that can strengthen your body's natural defenses by boosting the immune system. In fact, consuming more vitamin C can enhance your blood antioxidant levels by up to 30%.
Oxidative Therapy
Stimulates the body's oxidative capacities, which are necessary for energy, metabolism, detoxification, and immune function. These include ozone therapy, hydrogen peroxide therapy, ultraviolet blood irradiation therapy, spirovital therapy, and more.
Oxygenating Therapy
Improves energy levels, increases endurance during exercise, helps bounce back quickly from physical exhaustion, provides relief from stress and headaches, and increases concentration.
Live Cell Therapy
Cell Regenerative Therapy promotes cell revitalization and regenerative processes that result in a strengthened immune system, improved vitality, enhanced energy level, refreshed skin tone and complexion, and stabilization of mental power.
Infrared Sauna Detoxification Therapy
Sweating is one of the body's natural methods of eliminating toxins, making it a crucial part of detoxification. With infrared sauna technology, the body can also relax, relieve unwanted pain, increase circulation, and purify the skin.
Colon Therapy and Enemas
Enemas can improve digestive health and provide excellent colon cleansing benefits, especially when experiencing constipation and dry, painful bowel movements.
Liver Detoxification Therapy
Since the liver reduces toxins, among other things, it makes sense that a healthy liver is crucial to a robust immune system. Cleansing the liver may also increase vitality and energy.
Physical Therapy and Exercise
Physical therapy and exercise are essential elements of patient care, which promote the patient's ability to move, all while reducing pain, restoring function, and preventing disability.
Botanical or Herbal Therapy
A medical system utilizing plants or plant extracts that may be consumed or applied to the skin. Since ancient times, herbal medication has been used by different cultures throughout the world to treat illness and to assist bodily functions.
Homeopathic Medicine
A holistic, natural treatment where the patient is treated as a whole, rather than focusing on a diseased part or a labeled sickness. The protocol uses dilute amounts of natural substances to treat various ailments, including certain cancers.
Chiropractic Medicine
Millions of people in the world have experienced the profound benefits of chiropractic care, a holistic, non-invasive treatment program that helps treat different health conditions, including joint pain, backaches, and headaches.
Dental Care
The National Institute of Dental and Craniofacial Research estimates that 40% of patients receiving cancer treatment therapy are at risk of oral complications. Paying attention to oral health is important to prevent dental problems that could hinder treatments.
Antimicrobial Therapy
Antimicrobial therapy destroys or inhibits the growth of microorganisms such as bacteria, fungi, or protozoans.
Acupuncture
Hundreds of clinical studies show that acupuncture successfully treats conditions ranging from musculoskeletal problems (back pain, neck pain, and others) to nausea, migraine, anxiety, depression, and more.
Aromatherapy
Aromatic plant extracts and essential oils may help speed up the body's healing process, eliminate headaches, induce sleep, strengthen the immune system, reduce pain, improve digestion, and increase circulation, among others.
Ozone Therapy
Increases the amount of oxygen in the body through the introduction of ozone. Several techniques are suggested, with benefits including the treatment of cancer.
Stress Management
Stress management is a broad spectrum of techniques and psychotherapies directed at controlling a person's level of stress, especially chronic stress, usually to improve everyday functioning and health.
Hyperbaric Oxygen Chamber Therapy
Improves the body's natural healing process by inhaling 100% oxygen in a total body chamber, where atmospheric pressure is increased and controlled.
Ultraviolet Blood Irradiation Therapy
A non-toxic and drug-free method of treatment used clinically as an immune modulating therapy in cases such as lymph cancer, chronic infections, chronic fatigue, autoimmune diseases, and much more.
Facilities
At New Hope Unlimited, we pride ourselves in providing superior comfort, cleanliness, and cancer care at our 8,000 square foot medical treatment center in San Luis Rio Colorado, Mexico. We worked with renowned architects and contractors to create the ideal space for recovery, which includes state-of-the-art lounge areas and spacious private in-rooms that assure the comfort of our patients and their loved ones.
To make our patients feel right at home, each private ward is equipped with high-definition U.S. television, quality bedding, and high-speed internet connection. And with proper nutrition playing a vital role in cancer recovery, New Hope Unlimited also fulfills the dietary needs of each patient using fresh, organic produce to prepare breakfasts, lunches, snacks, and dinners.
Comfort and cleanliness are also strictly implemented in our medical treatment rooms, which are equipped with the latest medical supplies and technology to provide the highest standard of care and treatment. Our medical center also has an in-house Hyperbaric Chamber, a well-established therapy for decompression sickness, exclusively available for our patients' use.
Further, New Hope Unlimited has maintained its exceptional partnership with Hospital Migoo, a medical group comprised of certified physicians and specialists committed to our patients' comfort and well-being.
Stories of New Hope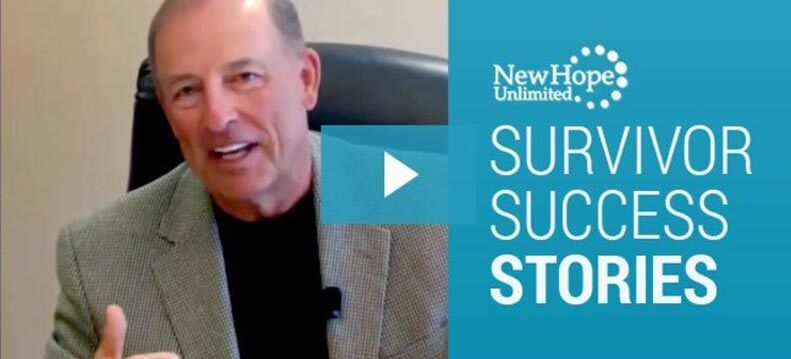 More Cancer Survivor Testimonials ►
FAQs
1. My family member diagnosed with cancer does not want to try natural treatments. What can I do?
We understand how difficult it can be to have your views shut down, but you can't force your opinions on a patient. We advise giving them as much accurate information about traditional and alternative cancer treatments to make an informed decision. In the end, it is their decision to make, even if they decide to go with more traditional therapies.
2. Are there rules to alternative cancer treatments?
Yes. Most customized treatment plans include very detailed directions. We encourage you to understand any medication you will use before starting. Don't worry — we will guide you every step of the way.
3. Can prescription drugs interfere with alternative cancer treatments?
Some prescription medication may impede or counter the efficacy of alternative cancer treatments.
4. What will my customized treatment plan include?
Since each patient's medical condition is different, your treatment plan will be tailored to your specific needs. Your customized treatment plan may include any of the mentioned above and may comprise additional treatments such as blood work or metal toxicity assessment, among others.
5. My physician has no interest in alternative cancer care. Do I have to change doctors?
Our comprehensive cancer treatment plans are designed to work seamlessly with the physician of your choice. You do not need to change conventional doctors. Since many physicians are unfamiliar with alternative therapies for cancer, they are often concerned for their patient's safety when such treatments are being considered. Since New Hope Medical Center is a recognized authority for alternative medicine, we can communicate directly with physicians to explain and coordinate your care.
WE'D LOVE TO HEAR FROM YOU! REQUEST FOR A CONSULTATION