Who we are
New Hope Unlimited's administrative and medical teams are dedicated to providing the most comprehensive treatment of chronic degenerative diseases and immune disorders. Each of our lives has been touched by illness, whether through the illness of a family member or our own illness. This is why we are continually developing progressive new treatment strategies that focus on the health of the body as well as the emotional and spiritual wellbeing of the patient and their family members. What does this mean to you?
The New Hope Unlimited cancer treatment program is designed with a personal approach to treating patients, offering a warm and caring atmosphere where every staff member focuses on the needs of the individual patient. Our medical treatment programs are designed to concentrate on the person as a whole, while at the same time addressing the symptoms of the disease and its causal factors. Also, we understand the importance of family and spiritual support, so family members are always welcome (and encouraged) in our facilities.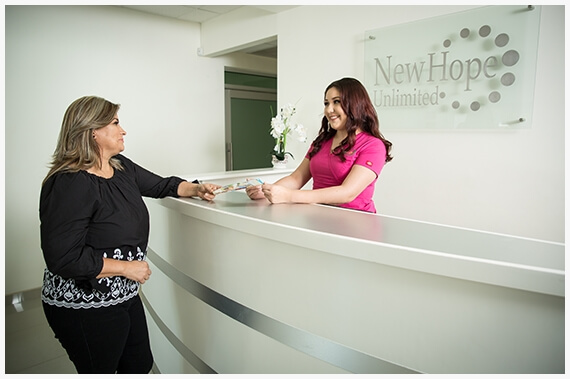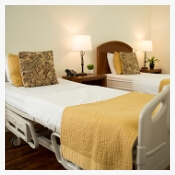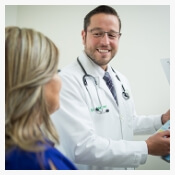 Meet your cancer care team
Highly Qualified, Compassionate and Dedicated. Our medical team will guide you and your family throughout the treatment process - from the time you come in to the time we all arrive at the best possible outcome for you.
Dr. Fredda Branyon
Owner, President
Fredda Branyon's dedication to healing and hope began as a teenager during her Candy Striper days.  Fredda has enjoyed more than 43 years in the medical profession.  She was a nurse before earning her pre-medical degree at Wofford College in Spartanburg, SC. Upon completion of Wofford's pre-med program, she entered the medical program at the Southwest College of Naturopathic Medicine in Tempe, AZ.  Fredda has studied with medical experts throughout the world, and has dedicated her life to educating patients and their families on the benefits of Complementary Medicine. Although Fredda Branyon has chosen not to seek licensure as a physician, she has dedicated her life to the advancement of complementary medicine, and has worked diligently to educate both patients and physicians on the true power of hope.  Throughout her illustrious career, she has studied with some of the world's most renowned alternative oncology experts from Germany, Israel, Japan, and Mexico.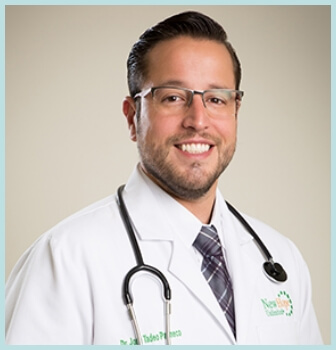 Dr. Jose Pacheco
Medical Director
New Hope Unlimited is proud to have Dr. Jose Pacheco as its Medical Director. Since completing his education at Universidad Xochicalco, a prestigious medical university in Ensenada, and the Mexican Institute of Social Security, he has quickly become a highly respected physician in the medical community that shows a constant dedication to improving his patients' quality of life. Dr. Pacheco regularly works with several local hospitals and acts as a physician to San Luis' Police Headquarters. His post-university studies have included Cancer Diagnosis in Children, Obstetrics, Gynecology, and Cardiology, among others.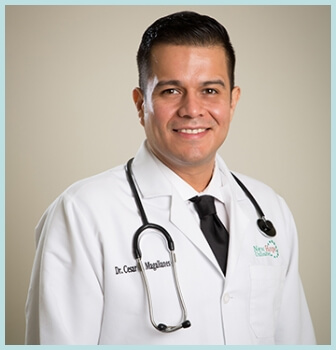 Dr. Cesar Magallanes
Chief of Medical Staff
Dr. Magallanes graduated from Xochicalco University in the State of Baja California, considered one of the most prestigious private medical schools in the country. Dr Magallanes has collaborated for the Ministry of Health and the Federal Institution of Social Security in Mexico. He has collaborated in the private sector with recognized Hospitals in Mexicali and San Luis. His post university studies have include, General Surgery, Obstetrics, Gynecology, Pediatrics, Oncology, among others.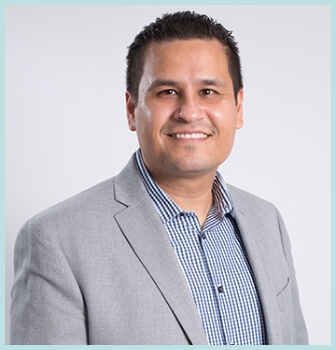 Dr. David Sanchez
Oncologist Surgeon
Dr. Sanchez graduated from Baja California State University, considered one of the top medical schools in the country. He is an Oncology Surgeon certified by the National Board of Oncology, as well as an active member of the Mexican Oncology Society. He continues to train in various Oncologic treatments, attending seminars and conducting research.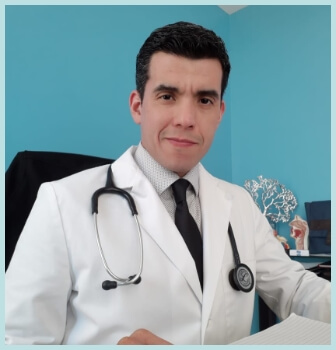 Dr. Antonio De La Peña
Hematologist
Dr. De la Peña graduated from Baja California State University and immediately started his medical career as a researcher. From 2005 till 2013, he collaborated with the most prestigious hospitals, labs, and research institutions in the areas. He was also a Professor in his Alma Mater in the Infectiology Department. From 2009 to 2016, he completed his Residency at one of the top Hospitals in Mexico City. From 2015 to 2016, he was Chief of Residents, certified by the Mexican Hematology Council. Since 2016 he has specialized in research and applied science, developing scientific protocols for different diseases and pharmaceuticals. His publications had been published in many Medical Journals across the Country. Many of his studies are devoted to cancer research.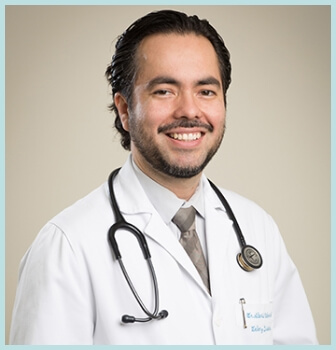 Dr. Jesus Velarde
Anesthesiologist/ Algologist
Dr. Velarde graduated from Baja California State University, considered one of the top medical schools in the country. He is an Anesthesiologist, an Algologist and is certified in Palliative Care. At New Hope he is an important part of the team as we trust him to keep patients as comfortable as possible whenever a procedure is needed.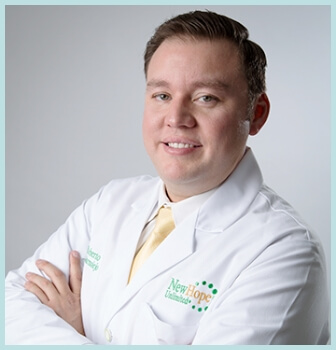 Dr. Roberto Martain
Chief of After Care
Dr. Martain graduated from Baja California State University. Coming from a medical background, since very early knew he wanted to be a Doctor. Dr Martain has worked for the Ministry of Education as the Medical Authority and Inspector for Schools in Mexicali. His post university studies include Internal medicine, Gynecology, Pediatrics, Oncology, among others.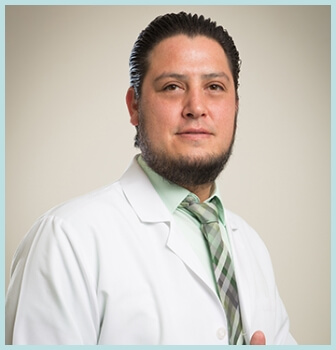 Dr. Marco Acuña
Otolaryngologist
He graduated with honors from both Medical School and his Postgraduate Degrees. He is an Otolaryngologist (ENT) and a certified Head and Neck Surgeon with a Masters in Health Care Administration. He continues to attend continuous education courses, seminars and conferences and is an active member of ENT boards and colleges. He follows a family line of Doctors.
Jose Luis Becerra
Biological Chemist, Chief Lab and Research
Chemist Luis Becerra graduated from Baja California State University. He has gained experience working for a Federal Institute for Social Security and Medical Services for State Workers in Tijuana, Baja California for more than 25 years. Mr. Becerra has collaborated with a Governmental Blood Bank and top of its class Lab in Tijuana. He's dedicated his life to the research of alternative medicine and its field.
Rosaura Gutierrez
Biological Chemist, Deputy Chief of Lab
Chemist Rosaura Gutierrez graduated from Baja California State University, top pf her class, she has gain expertise in her field with over 24 years of experience in the private and governmental sector.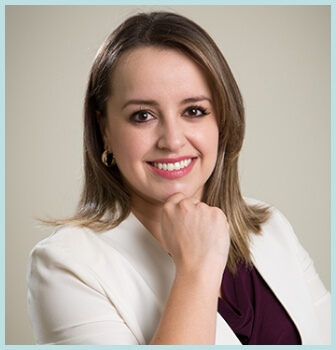 Michelle Pacheco
Administrative Director & HR
Mrs. Pacheco graduated from Baja California State University with a degree of International Affairs and Foreign Politics. She gained 10 years of experience working for the Mexican Ministry of Foreign Affairs in the United States collaborating in different fields like health, community affairs, foreign policy & diplomacy at the Consulate General of Calexico, San Francisco, California and Yuma, Arizona. Coming from a family of doctors, she always knew she wanted to help people, she joined the New Hope Unlimited team in 2015.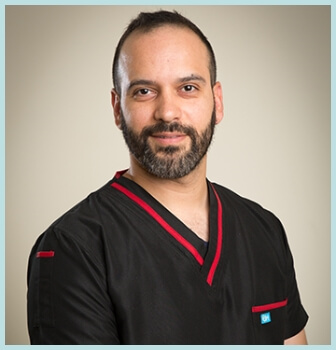 Carlos Armando Ramirez
Physical Therapist
Mr. Ramirez graduated from a prestigious school in the State of Queretaro. He comes from a long time family line of Orthopedics Surgeons and in collaboration with his brother and father they have one of the most respected units for Orthopedics and Physical Therapy in San Luis with over 30 years of experience.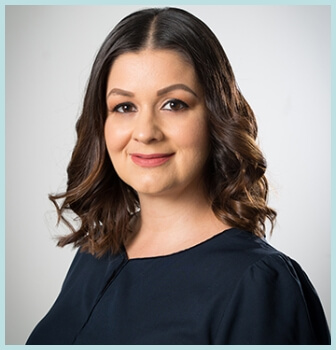 Cecilia Gonzalez
Meditation Expert
Mrs. Gonzalez is the owner of a wellness center in San Luis, Instituto OM. Since early starts she connected with the alternative medicine and therapeutic route of meditation. Her expertise is aimed at nourishing, purifying and energizing the body, mind and spirit from an integral perspective, based on the ancient Ayurvedic science, complementing Health with physical and mental relaxation. She has being awarded by Yoga Alliance (RYS) and certified by the Chopra Center (Certified Instructor) among others.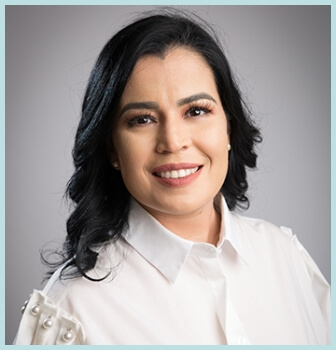 Daniella Collings
Owner of Daniella Collings' Spa
Daniella has dedicated her life to the study of beauty, healing and wellness of the body and soul through different techniques that include massage therapy, meditation, aromatherapy ultrasound therapy, hydro therapy among others. She is one of the most respected and well known professionals in her field.