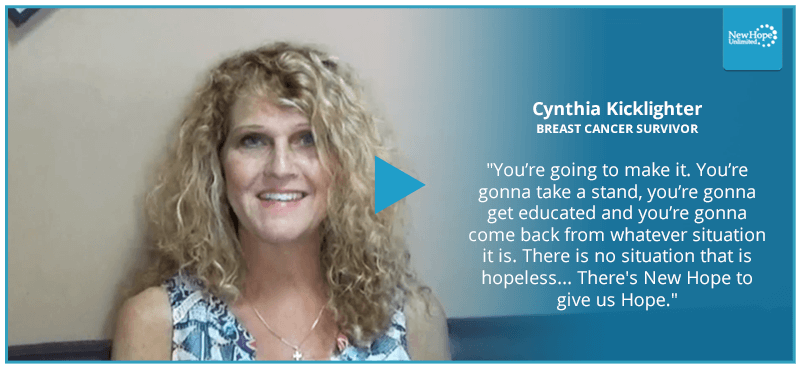 OVERVIEW
Cynthia's Testimonial
Hi! My name is Cindy Kicklighter. I'm excited to talked to you guys today. A little about my story in 2013, I was diagnosed with cancer, breast cancer. I'm from Connecticut and it was a devastating diagnosis for me, I remember that day when I got that call and it was positive results and it was just devastating and it began, thrusted me to a journey to make some very serious decisions.
I was brought to the hospital with a lot of aggression and a lot of fear and they said we needed to move very fast that it grown into a stage three and going to the lymphatics and it was a very aggressive cancer and the doctors had said that if they did not move very, very fast then it definitely it was a terminal prognosis. I sat home and I remember them giving me a big book on the cancer clinic and said this is what we're gonna do and here's how we're gonna about doing it.
By December 2014, my prognosis of cancer stage four. it was uhm, but and I knew about it this cancer and swear I didn't fear it but the cancer going into the hip it ate my left acetabulum. I was wheelchair bound and it go up on my spine and it was on all my lymph nodes, tumors on my lymph nodes. I couldn't cough, I couldn't sneeze. My children could come and kiss mommy but they couldn't hug mommy because the pain of the cancer going through the body.
They did a scan on me before I found New Hope, right before I came out to the clinic. They did a scan on me and they said the cancer's in the liver. They showed me the scan up the spine and the doctor pretty much leaned over and said Cindy, this is irreversible. She said I'm not gonna be able save your life but if we move really fast, we'll be able to extend your life. My mom and I were sitting in that room and I didn't, I wouldn't agree with that because I knew the body but I needed some help.
I spoke to a doctor and somebody had referred New Hope and it was such a blessing. the day before I had gotten information on New Hope, I had already known about you know, cells, and oxygen and blood. And I knew what I was looking for I just couldn't find it in the United States. I couldn't find with the doctors, I knew about the immune system. I knew, and I went on their website and it wasn't the referral that made the decision for me to come to New Hope. I was an educated consumer. I knew what I was looking for. I couldn't believe that one place could do all of this for me. So, I immediately booked to my tickets and the day before I flew out the cancer clinic up in Connecticut said you need to get into the hospital immediately. Your hips is gonna deteriorate inside of you. We need to start moving fast. I said well, you're gonna have to move after I get back from Mexico because I just get booked my flights.
I got down to the clinic, brought my sister-in-law with me because I couldn't travel alone. And again I was in excruciating pain and I went to twelve days at the clinic with just such care. I can say when I showed up. I first of all met the doctors and met Dr. Branyon and I felt like I wasn't a patient I think they looked at me like this was another opportunity to prove success and experience of twelve days not only was filled with education, amazing treatments, immunal things, I knew.
The avenue they were taking was to built Cindy's body. So Cindy's body could go and do what it suppose to do. Which will beat cancer and help us live long lives. And within two months to three months I am couldn't get out on my own bed I have had someone to walk me from bed to the bathroom. I couldn't get in the shower myself. I could lift my hands above from my shoulders. When I left the clinic within two to three months I begin taking showers on my own. My hip began to heal. I could cough, I could sneeze and we went into the scan in approximately, maybe March - April! When we did the scan back in Connecticut April - May.
The doctor came in the room I had been able to have a lot more movement feeling amazing. And she just went through my body and she began talking. And she said well we don't see anymore here. And she continue with this conversation. Me, my mom and dad in this room. And I finally stopped her, and I said "Doc, is this is kinda a like what you guys call remission?" And she looked at me and she said "You've been in remission", we sobbed and the answer was I did not do chemo, I did not do the treatments that were prescribed to me up front. I came down here, I got 12 days I continued on the journey that I knew so much about. I just needed to go somewhere where we all agreed with the same thing.
You know I would ask the doctors things like well if, if you give me that treatment won't it kill my dendritic cells and my natural killer cells that are killing cancer? And the doctors would say "Yeah! But if we're not worried about that, we're worried about the cancer". And I'd say "I'm not worried about the cancer, I'm worried about my dendritic cells and my killer cells". And, she just looked to me she said "Cindy it's just a miracle", I said "No Doc", I said "If we give our body the right things, if we do the right things with our God-given body, cancer is not something to fear".
I'm gonna encourage you on your journey. This is the first day! You're going to make it. You're gonna take a stand, you're gonna get educated and you're gonna come back from whatever situation it is. There is no situation that is hopeless, there is places. There's New Hope to give us hope. And I thank you guys so much for being a lifesaver in my life.